The most delicious Stroopwafel Liqueur
Are you a real fan of stroopwafels and do you want to try something new? Then try the stroopwafel liqueur from Stroopwafel World. Our stroopwafel liqueur is a delicious Van Meers liqueur with a delicious stroopwafel flavor that is perfect for a real stroopwafel lover. By drinking the stroopwafel liqueur, you can even enjoy the taste of stroopwafels during a drink. Just like the stroopwafel itself, the stroopwafel liqueurs from Van Meers are made from the traditional Dutch Gouda stroopwafel ingredients. That way you can taste that the stroopwafel liqueur really tastes like stroopwafel. Of course you can also enjoy the authentic taste of stroopwafels during a nice drink by taking a delicious stroopwafel liqueur.
What do you drink Stroopwafel Liqueur in?
The stroopwafel liqueur Van Meers is very tasty to drink neat, but there are a number of other ways to enjoy the stroopwafel liqueur. It is also very tasty to mix the stroopwafel liqueur with milk or to add it to the coffee. In this way, the stroopwafel liqueur can be a very tasty addition to milk or coffee. This is a very tasty way to enjoy a cup of coffee with a little Stroopwafel Liqueur after dinner. Both coffee and milk can positively bring out the taste of the stroopwafel liqueur, so that the combination of milk or coffee and the stroopwafel liqueur will enhance and compliment each other. The Stroopwafel liqueurs from Van Meers are available in three different sizes:
Even more Van Meers Liqueurs!
In addition to the delicious Stroopwafel Liqueur, Stroopwafel World has even more special liqueurs in its range. There is a Brownie liqueur, Tiramisu liqueur, Chocolate liqueur, White Chocolate liqueur and the Lemon Cheesecake liqueur. These liqueurs are also available in different sizes, so if you can't make a choice, you could choose to try different special liqueurs in mini format. Are you going for a mix between the Stroopwafel liqueur, Cheesecake liqueur and the Tiramisu liqueur? Then choose the ' Van Meers Liqueur Mixed Tray ', which contains 12 shots of special liqueurs.
Buy everything related to Stroopwafels at Stroopwafel World!
At Stroopwafel World we have everything in the field of stroopwafels. At Stroopwafel World we are true lovers of the traditional Dutch stroopwafels. That is also why at Stroopwafelword we have a wide range of stroopwafel related products that are perfect for any stroopwafel lover. In addition to the delicious stroopwafel liqueur, we have a wide range of other tasty stroopwafel products. For example, we have the classic Kanjer stroopwafels or the classic Delft blue stroopwafels . At Stroopwafel World it is also possible to personalize stroopwafel tins or stroopwafel packaging, in this way you can give someone the tastiest stroopwafels as a gift in a unique way. At Stroopwafelworld you can find all your stroopwafel wishes. You can also enjoy the tastiest stroopwafel products all over the world thanks to our worldwide shipping. Therefore order all your stroopwafel products at Stroopwafel World.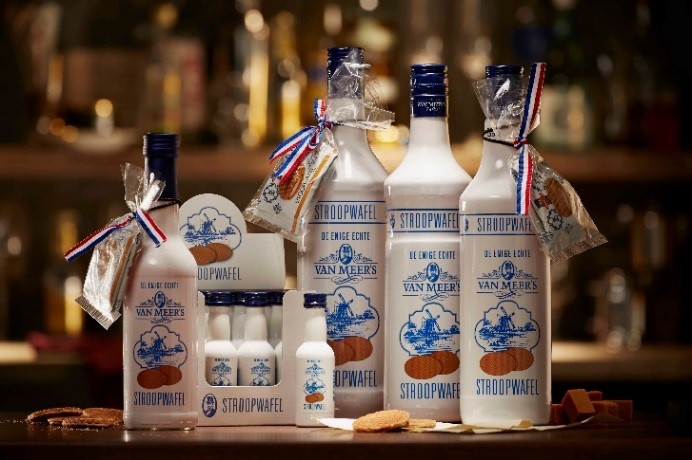 Personalized promotional gift for holidays?
Looking for a promotional gift for the holidays, with the logo of your company or association on the label? Then the freshly baked stroopwafels by the baker of Stroopwafel World are highly recommended! The Stroopwafels with logo are packed individually and have a sticker with your company logo - also suitable for sending abroad. This makes it a nice personalized promotional gift that is very suitable during the December days!