Stroopwafel in Delft Blue
Stroopwafels in Delft Blue, more Dutch is not possible! Which Dutch person did not grow up with a delicious stroopwafel? A delicious stroopwafel for the breaks, a stroopwafel for coffee and of course stroopwafels are the best gifts to take abroad.
Stroopwafel with Delft blue packaging
Stroopwafels are produced in the Netherlands and from here the delicious stroopwafels spread all over the world. How can Dutch product be made known even more? By adding a Delft Blue packaging of course! Stroopwafel World offers you stroopwafels with Delft Blue packaging. As mentioned before, a stroopwafel is the ideal but also the tastiest gift to give when you visit abroad. When you bring stroopwafels in Delft Blue packaging, this will be received even more nicely because it has a typical Dutch look. The stroopwafel is a successful 'Syrup Waffle' both at home and abroad.
Delft Blue Stroopwafel Experience
More and more people from abroad are becoming familiar with the stroopwafel and find it very tasty. This stroopwafel in Delft blue packaging has different types of languages, which makes the products very functional abroad. In addition to the Dutch ingredients, the German, Spanish, English and Arabic specifications are also stated on the packaging. The best-before date after production of these Delft Blue syrup waffles is 1 year.
Choose your Delft Blue Stroopwafels
This Delft blue stroopwafel line is available in different variants, namely:
Buy Delft Blue Stroopwafels online at Stroopwafel World
Stroopwafel in Delft Blue for international conferences, festive openings, thanks, birthdays, business gifts or just want to buy delicious stroopwafels for yourself? Enjoy the Delft Blue Stroopwafel Experience by ordering the Delft Blue stroopwafels online at Stroopwafel World. The real Dutch stroopwafels. When you opt for a usual shipment, you can assume that the order will be delivered as soon as possible. Our team does everything it can to have the tastiest stroopwafels delivered to your home or work the next day or within a few days!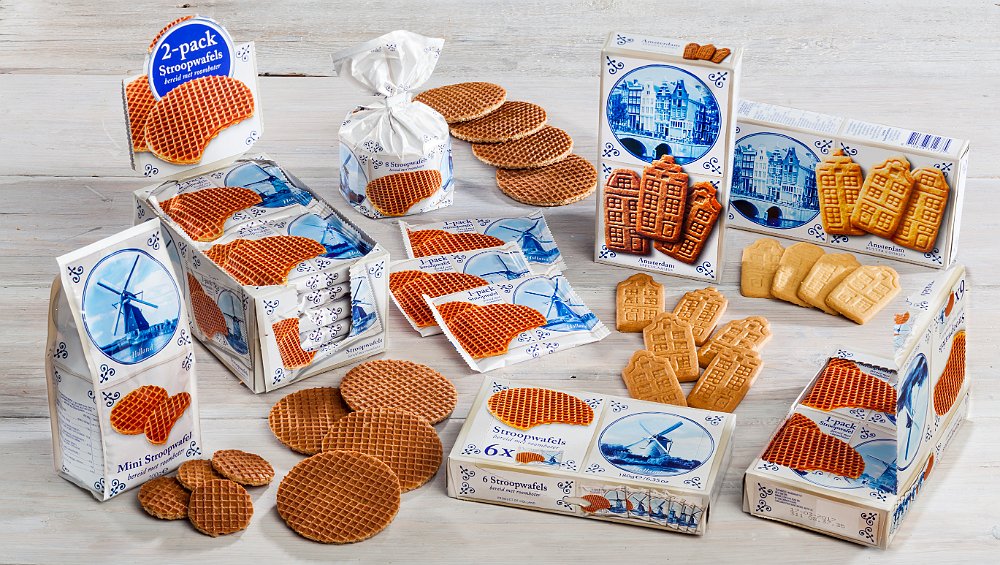 Personalized holiday gift
Rather looking for a promotional gift for the holidays, with the logo of your company or association on the label? Then the freshly baked stroopwafels by the baker of Stroopwafel World are highly recommended! The Stroopwafels with logo are packed individually and have a sticker with your company logo - also suitable for sending abroad. This makes it a nice personalized promotional gift that is very suitable during the holidays!
Do you already feel like surprising your company to potential customers, staff or other relations in this original and tasty way?